© Rheinisches Bildarchiv.
In Abyssinia. Observations on Tigre
Biography
Schimper Internet Edition
Biography of Georg Wilhelm Schimper
Schimper's Life and Work
Introduction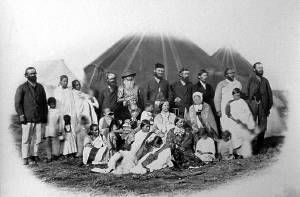 Fig. 1
Georg Wilhelm Schimper [Fig. 1], was a renowned German botanist and explorer who spent more than 40 years in Ethiopia collecting plants, mainly in Tigray, the Semen Mountains and the Märäb and Täkkäze regions of what is now known as the Ethiopian highlands and Eritrea. Schimper is now universally considered to be the single greatest contributor to the knowledge of the flora and fauna of the Horn of Africa. The great majority of plants of Ethiopia had been unknown in Europe before Schimper visited the country. He went on many expeditions to collect plants which he then dried and sent as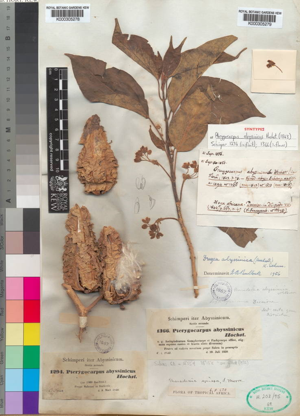 Fig. 2 specimens to European herbaria.  They still form a substantial part of the collections of major research centres in Europe such as the Jardin des Plantes in Paris, the Botanisches Museum in Berlin, and the Royal Botanical Society at Kew in London and many others.[1]  The Kew Herbarium catalogue alone reveals some 2400 schimperi or schimperiana entries for plants he classified and described in Ethiopia and the countries he visited in the Middle East [Fig. 2; Fig. 3].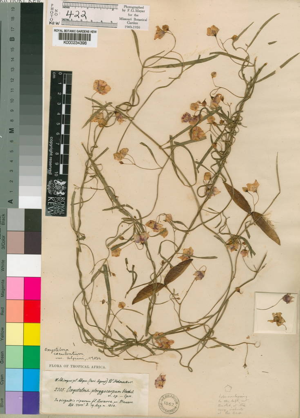 Fig. 3
The documents by and about Schimper, which are to be found in various archives in Europe, form extremely important records not only of the botany, but also of the geology, mineralogy, meteorology and topography of Ethiopia. This evaluation and sketch of his life is followed by a discussion of his most important two research papers on the botany and geology of Tigray and Bägemder, Northern Ethiopia, which are kept in the British Library in London.
Schimper's biography
Schimper was born on 2nd August 1804 in Lauf on the River Pegnitz near Nuremberg in Germany. He was the second son of Friedrich Ludwig Heinrich Schimper, a teacher of engineering and mathematics, and Margaretha Baroness von Furtenbach, a descendant of an impoverished aristocratic family from Reichenschwand in Bavaria, Germany.[2]  Georg Wilhelm Schimper came from a family of scientists; his elder brother, Karl Friedrich Schimper (1803-1867), developed glacial theories about the Ice Age and his cousin, Wilhelm Philipp Schimper (1808-1880), a celebrated expert on mosses and bryophytes, became the director of the Strasbourg Natural History Museum.
Schimper's parents had an unhappy marriage and they separated when he was only 10 years old. His father eventually died in poverty in St Petersburg in 1823 and his mother spent many years in mental institutions where she died in 1833. As a result Schimper and his brother had to rely on the charity of other family members for their education. Schimper attended school at Mannheim and Nuremberg but his formal education ended when he was 14. He then served an apprenticeship as wood turner at Nuremberg before joining the Badisches Infanterie Regiment, working as farrier and gaining the rank of Sergeant. On leaving the army in 1828 Schimper joined his brother Karl Friedrich in Munich, who was enrolled at the University studying Natural Sciences. Although Schimper never actually completed a formal course of study he enjoyed the company of some of the brightest students of his generation. They included Louis Agassiz (1807-1873), paleontologist, geologist and a prominent innovator in the study of the earth's natural history, and Alexander Braun (1805-1877), the German botanist and later Director of the Berlin Botanical Garden. In 1830 he met Eduard Rüppell (1794-1884), the first naturalist to travel in Ethiopia. Ever short of funds Schimper supported himself by working for some of these scientists.
Despite his lack of formal qualifications, he was locally known as 'hakim', 'doctor' and he himself recounted treating people, for instance healing a relative of Webe's of an eye infection.[3] In later life Schimper signed his letters as 'Dr. Schimper' when writing from Ethiopia, He also signed as Baron von Furtenbach when it suited him.
Collection expeditions
On 25 January 1831 Schimper left Mannheim for his first botanical expedition to the south of France and Algiers in the service of the Botanischer Reiseverein of Esslingen, a travel association (also known as the Unio Itineraria) founded by the botanists Christian Ferdinand Friedrich Hochstetter (17871-1860) and Ernst Gottlieb von Steudel (1783-1856). The travel association was established to promote scientific investigation through the collection and distribution of exsiccatae or dried plants as collectors usually supplied multiple specimens of one plant. The directors raised funds for the scientists from subscribers to the project as well as from the liberal patronage of William I, King of Württemberg (1781-1864) and would then sell on multiple specimens to herbaria all over Europe.
Schimper returned from Algiers due to illness in 1832. For a short time he  stayed with Louis Agassiz in Neuchâtel where he continued his work as a draftsman and illustrator, mounting fish skeletons and learning the craft of preserving botanical specimens. Later he stayed with relatives in Alsace. Under the auspices of C. F. F. Hochstetter and E. G. von Steudel, he published an account of his travels, Reise nach Algier in den Jahren 1831 und 1832, in Esslingen in 1834.
In August 1834 he set out on another collection expedition, this time for Egypt and the Arabian Peninsula, for the Travel Association. He travelled with a colleague, Dr. Anton Wiest (1801-1835). They suffered shipwreck near the island Kefalonia, but took the opportunity to explore parts of Greece and the Ionian Islands before travelling on to Egypt. Unfortunately, after having reached Cairo, Wiest died of the plague. Undeterred, Schimper decided to continue collecting plants on the Arabian Peninsula on his own. His first collection comprised some 30,000 plant specimens,[4] which he sent to Germany. In 1835, Schimper was made an Honorary Member of the Mannheim Society for Natural Sciences (Naturforschende Gesellschaft Mannheim) in recognition of the many plants he had sent to his home town.
In the long run, the collection activity proved too costly for the Travel Association. Schimper had sent a request for additional funds, the directors had asked their subscribers to double their contributions, but their support could not be sustained and the Association was wound up in 1842.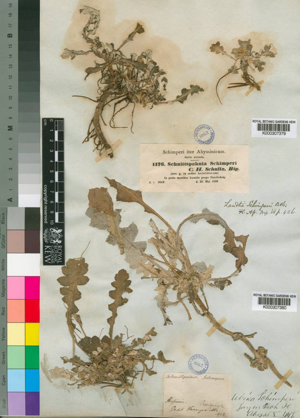 Fig. 4
In 1837 Schimper travelled to Massawa on the Red Sea coast and from there overland to the city of Adwa in Tigray, Ethiopia, where he was granted permission to settle under the protection of the local overlord, Ras[5] Webe Haile Maryam (1799-1867). He conducted field trips in the unexplored Semen Mountains, periodically sending botanical collections to Mannheim, for which he was paid in cash. He named a flower after Webe, 'Ubyaea Schimperi',[6] the specimen in the Kew Herbarium, dated 30 May 1838, is now called Haplocarpha schimperi [Fig. 4] or Ethiopian daisy [Fig. 5].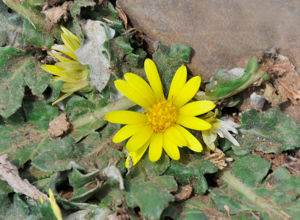 Fig. 5
Between October 1837 and May 1855 Schimper undertook various collecting expeditions as far north as the Märäb River and south into the Täkkäze and Semen Mountain regions, the prolific results of which made him the renowned botanist. After the first shipments of specimens from Ethiopia to Mannheim in 1838, 1841 and 1843[7], he continued sending plant collections to other European collectors, to the Jardin des Plantes in Paris from 1851 to 1855 and to Alexander Braun and Georg August Schweinfurth, the celebrated traveller, botanist and ethnologist (1836-1925) in 1854, 1861 and 1862 to Berlin.[8]
Money problems
Through contacts with the Italian Lazarist priest, later Bishop Giustino de Jacobis,[9] Schimper converted to Roman Catholicism on 16 April 1843 and on 22nd April 1843 married an Abyssinian Catholic convert, Wäyzäro[10] Mersit (c. 1823/28-1869). She was a relative of the diplomatic envoy, Catholic convert and priest, Abba[11] Emnätu and believed by many to have been a relative of Webe's. The couple had three children, Yäsimmäbet Dästa Maria (b. 1843), Taytu Sophie (b. 1845) and Engedasät Wilhelm (b. 1847). A third daughter, Teblat, was born in c. 1853 whilst he was working on the construction of a church for Ras Webe at Däräsge Maryam in the Semen Mountains, although it is not clear whether Wäyzäro Mersit was her mother.
Fig. 6
Also through the good offices of Bishop De Jacobis, in 1843 Ras Webe appointed Schimper Šum[12] or governor of the province of Enticho[13] to the east of Adwa and gave him a small estate there[14] where he introduced new agricultural methods and plants, among them the cultivation of potatoes.[15] In Amba Sea, he built a house which he called Gässa Schimper; in later years he entered its location both in his manuscript map [Fig. 6] and in one of the additional tables

Fig. 7 [Fig. 7][16] and its print version published by A. Sadebeck in 1869 [Fig. 8].[17] One of the houses on the estate served as R. Catholic church.[18]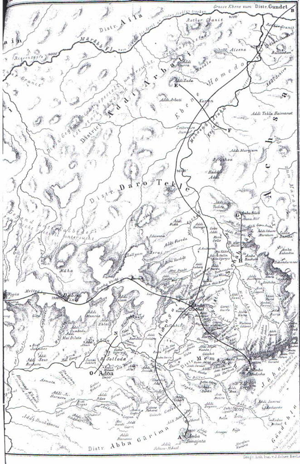 Fig. 8
Under Webe's protection Schimper now had an income from his province of Enticho, but its administration left him very little time for botanical research. All his life he had been hampered by a lack of financial resources and it was a precarious existence to be cut off from European funds. In 1840 and 1843, he tried to interest William I, King of Württemberg, to finance further expeditions,[19] in 1847, he suggested to the Hapsburg Monarchy to start trading with Ethiopia offered his services to enter on behalf of the Austrian consular agencies into commercial negotiations with the Turkish governor of Suakin and Massawa and the Turkish Pasha of Jeddah.[20] Nothing further was heard of these initiatives.
Collaboration with Eduard Zander, a German compatriot
In late 1847 the German artist Eduard Zander (1813-1868) arrived in Adwa and met Schimper. By January 1848 Schimper and Zander left together for botanical collection expeditions in Tigray and the Semen Mountain range. Schimper had been able to appoint a steward to look after his affairs during his absence.[21]
Schimper and Zander, though compatriots, did not always see eye to eye with each other as they supported different political factions, but from 1866 onwards they were both hostages of Emperor Tewodros, and suffered the same fate as all the Europeans in the Emperor's power. Both stayed in the country until their deaths, Schimper in 1878, Zander in 1868. Until 1855, when Webe lost out to Tewodros, the  two Germans shared many tasks at the behest of Webe, who had extended his protection over a number of Europeans on the clear understanding that they had to assist him in any which way he required. This meant that both had to perform tasks for which they had no experience or training.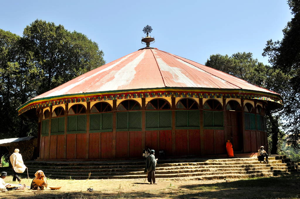 Fig. 9
In 1848 Webe commissioned the two Germans to build a church [Fig. 9] and a small stone building [Fig. 10] at Däräsge Maryam in the Semen Mountains, which they completed in 1853. Schimper called the building 'a small castle'[22] and even used the term 'Byzantine castle'.[23] Recent research by Manfred Kropp established that the church was founded with the privileges of an asylum church, so that the church compound with the stone building was founded as a place of refuge.[24]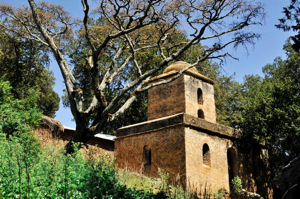 Fig. 10 Imperial foundations were frequently endowed with privileges, laid out in 'endowment charters', which specified the privileges like giving shelter, asylum or refuge to fugitives. In addition, the stone building in particular had been intended to be the 'coronation house'.[25]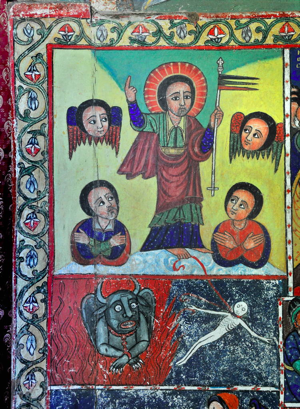 Fig. 11
The impressive buildings are still standing and well preserved to this day, the house of refuge less so.  The four walls of the mäqdäs, the sanctuary in the church, are magnificently painted throughout and Schimper and Zander are said to have superintended the floral decoration depicted
Fig. 12 in the paintings [Fig. 11].[26] Webe endowed the church with many treasures, amongst them the famous illuminated manuscript book The Däräsge Maryam Book of Revelation [Fig. 12].[27]
Schimper's years of hardship
During the battle of Däräsge on 9 Feb. 1855, the rebel leader, Kasa Hailu, defeated Webe and had himself crowned Emperor Tewodros II in Däräsge Maryam church on 11th February. In order to maintain his grasp on power Tewodros was forced to continue with fighting many rebellions and uprisings throughout his realm. According to Rubenson, traditionally, most soldiers were only armed with spears and shields, but he had captured 7,000 firearms from Webe at the battle of Däräsge Maryam alone, which gave him a huge advantage over all other pretenders standing in his way.[28]
Schimper, as a former protégé of Webe, lost his governorship of Enticho. He retreated to Adwa where he lived in greatly reduced circumstances for the next few years, having lost his offices, houses, and goods. In addition, nearly all his botanical and zoological collections had been plundered[29] and he found it virtually impossible to carry out any scientific work. He was reduced to begging from those he had helped earlier on, starvation and epidemics stalked the land.
Schimper knew the members of the German Protestant artisan mission, sent from St Chrischona near Basle, Switzerland, for missionary work to Ethiopia. Their missionary endeavour first under Webe, then under Tewodros did not bear fruit. Johann Ludwig Krapf (1810 – 1881) left an account of his work and travels. In it he mentioned that on his fourth journey to Ethiopia in 1855, he had asked Ato Wolda Rufael, the custodian of the house in Adwa where other missionaries, Carl Wilhelm Isenberg (1806-1864) and Samuel Gobat (1799-1879), later Anglican Lutheran bishop of Jerusalem with oversight of Abyssinia, had lived, what had happened to the Amharic Bibles. Rufael told him, that he had sold and given them away, only 50 copies remained, in the storeroom of Schimper, 'but he had taken the key with him'.[30]
In 1861 Christian Friedrich Bender (1827-1875), a member of the German Protestant artisan mission, married Schimper's eldest daughter, Yäsimmäbet, in Adwa. He. Together with his fellow missionaries he lived at Gafat, near Tewodros' capital of Däbra Tabor, where they ran a mission school and a technical training workshop. Today only two remnants of stone walls are visible.
Two years later Gottlieb Kienzlen (d. 1865), also a member of the mission, obtained Schimper's permission to marry his second daughter, Taytu. On the orders of Tewodros, Kienzlen and all the other Europeans residents of Gafat, were forbidden to leave the area, so that the bridegroom could not travel to Adwa, but Schimper as the father of the bride had to take Taytu from Adwa to Gafat for the wedding. When he tried to return he was forbidden to leave. He was kept under 'house arrest' in Gafat along with all the German Protestant artisan missionaries who were forced to manufacture weapons in the form of cannons and mortars for Tewodros' army. There were many reasons for the enforced stay in Gafat, the deteriorating political situation between Tewodros and Great Britain, triggered by the death of the British Consul Walter Plowden[31] in 1860, the ever growing mistrust of Tewodros of Europeans in his country and hence the order to allow them residence in one place only.
Despite the limitations on movements put on the Europeans in Gafat, Schimper was able to go on collection trips. He collected plants and rock samples and began working on a large map making project of the topography of Bägemder and Tigray. He was not trained as mapmaker or geologist, but wanted to study the link between the subsoil conditions and the cultivation, fauna and flora of the land. How he carried on doing this exacting scientific research work under extremely difficult situation, is hard to imagine and shows his mettle. As his first set of maps and notes had been lost through looting more than ten years earlier, he was obliged to write it all down again either from memory or from his notes, originally made in triplicate and hidden in two unnamed villages.[32]
In early October 1867 all Europeans were forced to move to Mäqdäla, Tewodros' mountain fortress together with all his army and camp followers. Although the distance was only some 160 km to the south-east they did not arrive until March 1868 due to the immense task of hauling the cannons and weapons over the difficult mountainous terrain. Schimper commented on the harsh conditions of captivity in Gafat and on the march, as did Guillaume Lejean in his book on Abyssinia. 'Strictly watched as the captives are, and forbidden to write, we may well wonder how it was possible for any of them thus to compile a lengthy report, containing much which, if discovered, would certainly have brought down the Emperor's [that is Tewodros] vengeance upon them. And, indeed, the compilation of the report was no easy matter. Dr. Blanc says on this point – "I [Schimper] was obliged on two occasions to burn my report; first, on being made prisoner in April, 1866, when we thought it advisable to destroy every note, letter, or paper in our possession. At Gafat I began to write it for the second time, but after the events that occurred there, I seized the first opportunity of making away with it. At Mäqdäla it is exceedingly difficult to write; spies are constantly peeping into our tent on some pretext or other. The risk and penalty are great, as the order is, that anyone found writing is to be chained hand and foot."'[33]      This report is corroborated by Schimper's own experience. Equally, some of Schimper's comments on the morality of Ethiopians mirror those of Blanc's. Some comments in the manuscript books show Schimper as a man of his time, caught up in colonial thinking on the superiority of European ways of living in comparison to what he had encountered in Ethiopia.[34]
The Europeans were finally rescued from Mäqdäla by the British military expedition under General Sir Robert Napier (1810-1890), whose troops besieged and captured the fortress on 12 April 1868 and liberated all prisoners.[35] Schimper, having sent his third collection of 1847-1848 to the Kew Herbarium in London, sent his manuscript books to the British Museum after the liberation in the hope of receiving further collecting commissions.[36]
Following his liberation by the British, Schimper returned to Adwa where he spent the last years of his life. His wife, Mersit, died on 5th February 1869 and he is known to have married again and had further children. He continued to write reports on Ethiopia, such as the one to the German Consulate in Alexandria about the coronation ceremony of the new Emperor Yohannes IV on 21st January 1872.[37] In another report he also described the maltreatment by Yohannes IV of his daughter Taytu who, after the death of her first husband Gottlieb Kienzlen in 1865, had married again. This time, her husband was the pretender-to-the-throne, Kasa Golğa,[38] in 1868, who had received the governorship of Enticho province in the same year.[39] In Schimper's last known letter, of 8 May 1878, he described the misery of hunger in Tigray.[40]
Schimper died in Adwa on 10th October 1878 from an epidemic disease, believed to be cholera. He was 74 years old. Schimper's son Engedasät had left Ethiopia with the British in the spring of 1868 and first studied at the St. Chrischona Pilgermission in Basle and then attended the Polytechnic School in Karlsruhe, supported by a bursary from the Grand Duke Friedrich I of Baden (1826-1907). After ten years of studies in Europe Engedasät returned to Ethiopia, too late to see his father alive.
Schimper's Observations and Maps
Schimper is known for his botanical research in Ethiopia and for his correspondence with famous botanists in Europe. In it he commented on political, economic and social conditions in his adopted country, about which not much was known to Europeans. A recent search in the British Library in London brought to light two large records, the first a large manuscript book Observations,[41] the second a collection of maps and profiles, Maps.[42] Both the manuscript book, dated 1868, and the maps and profiles, dated 1864/65, were purchased from Schimper by the British Museum, in 1870.[43]  
 In his manuscript book Observations, written in German, Schimper introduces the reader to his detailed and extensive descriptions of Ethiopian natural history, geography, botany, food production, local medicines, and meteorology, illustrated with his own sketches.[44]
The manuscript book starts with a list of maps and profiles, followed by a preface with Schimper's signature and 202 folios, some with little sketches, e. g. a parasol or a shade, called zelal, and a so-called 'coat of bulrushes', called gässa: Both are produced from rushes which grow in wet places. The stems of the Scirpus and Juncus species, called säddi and gadima, serve as sticks for the parasols, which are woven like a flat disk; it therefore cannot be closed or opened. The stems of the Typha and Cyperus species are used in a similar way for a type of raincoat. The green outer husk is removed, the long stems are gathered together at one end and interwoven horizontally by shorter stems, forming thus a cone-shaped covering which reaches down to the knees of the wearer. This coat of bulrushes is still worn by herders today [Fig. 13]. [45]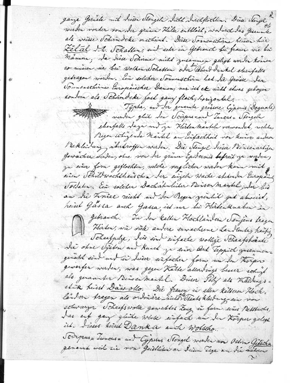 Fig. 13
The manuscript book also includes comments on the character of the vegetation in Tigray, and the formation and shapes of the mountains in the district Urahut near Addigrat. There are long chapters with passages on the political situation, on Schimper's life and income, working methods and contacts in Ethiopia as well as in Europe. The appendix is a very thorough list of plants growing in Tigray, a treatise on the understanding of Ethiopian medical science, herbal remedies against tapeworm, agriculture, cultivated plants, interspersed with narratives on the politics and personalities of Ethiopian life and finally geological observations. An example about plants: 'Grapes are called Weini and Wein-Tetsch is the wine made from grapes; however, grapes and wine are rarities in this country although one could have both in abundance. Making wine is too much work for the careless Abyssinians, they therefore drink honey wine which is ready for consumption after three to eight days'.[46]
Schimper's Observations or notebook is the earliest consistent presentation of the geology and botany of Tigray and throws light on soil conditions, crop conditions, population centres, language distribution and political events. A few drawings of farm implements conclude this volume.
The second manuscript, Maps, is a collection of maps, sectional drawings and topographic profiles, bound together as one volume; it comprises a large map of Bägemder[47] as well as smaller maps of the Axum – Adwa region[48] and Kolla Noari,[49] profiles of mountain ranges of Tigray, in colour, with captions and copious comments in German on the maps and in the accompanying texts, 'Remarks complementing the tables showing the area of Adwa and Aksum in Tigray'. Here we find descriptions in great detail of the various geological strata.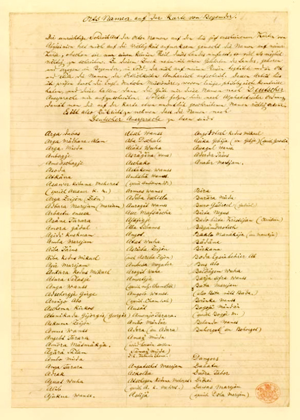 Fig. 14
Schimper's Maps and Observations are very important records for the area in which Däräsge Maryam is situated. Due to his prolonged stay in the area, he not only drew the mountain profiles pinpointing Däräsge Maryam, but also described an earthquake and freak weather occurrences and the treatment of a dog bite experienced there, as well as the rich flora of the whole area.[50]
Schimper's linguistic expertise comes to the fore in an alphabetical index of place names, as used on the maps and profiles. This is of particular interest to geographers today, as many place names refer to villages and towns no longer in existence [Fig. 14]. The alphabetical index of place names is possibly of greater special interest to linguists, as he listed variants and pronunciation details. Schimper introduced it with the following observation:
Place names on the map of Bägemder.
The somewhat incorrect way of spelling place names on the maps of Abyssinia, so far published, has made me realize that it was important to write as correctly as possible the names on my map, although it only deals with a small part of the country. In order to do so I hired a local scholar, born and bred in Bägemder, who accompanied me on my trips and who wrote down the place names in Amharic wherever we went. Some of the English and German missionaries, who have a training in philology, checked his work and were kind enough to write down these names according to German pronunciation. They have been entered in an alphabetical list so that one can check the names, which might not appear written correctly on the map. One therefore has to keep in mind that the place names are written according to German pronunciation.[51]
A comment by the author of the epilogue to the article 'Geognostische Skizze', Richard Kiepert,[52] might have triggered this meticulous listing of place names. Kiepert pointed out that Schimper had omitted to add symbols to the place names, so that the importance of a particular place was not easily visible. Schimper only used rings to pinpoint villages and crosses to pinpoint churches, he did not use more detailed symbols, for instance for Gässa Schimper, indicating whether it was an estate or homestead.[53]          In various archives in Europe there is supporting correspondence in German, explaining how Schimper worked on the large mapmaking project.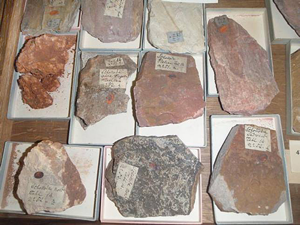 Fig. 15
In addition, Schimper collected rocks, numbered from 1 to 54 and labelled, and packed them into parcels, numbered from 1 to 15, corresponding to the 15 drawings of Mountain Profiles in his book Maps.[54] He sent the samples to the Natural History Museum, London [Fig. 15][55] and the Museum für Naturkunde, Mineraliensammlung, Humboldt University, Berlin [Fig. 16]. A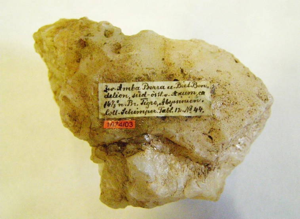 Fig. 16 'Memorandum', written in London, specified that 'The figures and letters on the parcels of rocks and the rocks themselves correspond with letters and figures inserted on Schimper's maps and sections. In determining, therefore, the character of the rocks sent home these letters and figures should be preserved for the purpose of constructing a geological map'.[56] 'Biet Bendelion' or Betä Päntälewon, for instance, features on the label of a rock and, in addition, Schimper drew the location of the church on the hill Däbrä Päntälewon near Aksum in the Mountain profiles [Fig. 17].[57]

Fig. 17
Finally, a word on Schimper's style. The writings of the German philosopher G. W. F. Hegel (1770-1831) on reason and the search for truth[58] gave rise to the idea of science as an exact discipline, using observation, classification and categorization; it was one of many theoretical approaches around 1800. Schimper, in his botanical writings, used a system of plant classification, which was based on the botanical taxonomy of Carl Linnaeus (1707-1778) and one of the most fundamental ideas of the Enlightenment: the idea of classifying the world by naming, structuring, organizing and collecting its parts, which still influenced 19th-century botany. Thus, Schimper employed a 'European' system of classification, though he gave the plant names in the local languages, Amharic and Tigrinya, and, therefore, is a unique and complex source for today's research on the flora of Ethiopia. In this way his writings as well as his actions can – at least partially – be described as 'European', in so far as he used non-local classification. Unfortunately, Schimper never gave precise locations for plants, a lack of information keenly felt by the botanical research community today.
Schimper's understanding of nature is didactic, often referring to the usefulness of plants for cultivation and consumption both in Ethiopia and of Ethiopian plants to be cultivated in Europe or simply referring to their beauty. In this sense, he was not 'only' a botanist, a topographer, a meteorologist, a seismologist or a linguist, but a seeker for that which was considered to be 'truly scientific'. Therefore, there was no inconsistency in classifying e. g. plants, stones and rivers, but also people by writing about 'the moral character'[59] of the Ethiopians, 'the major evil of the Turks'[60] or placing his anti-Semitic resentment.[61] By this, he fashioned himself as a 'European scientist' that spared no trouble in classifying, measuring and collecting. Both, 'scientific insights' and Eurocentric stereotypes are part of a more comprehensive rhetoric of a community of 'European scientists', a community which G. W. Schimper wanted to be a part of.
Captions and Photo credits
1, Portrait of G. W. Schimper. © Rheinisches Bildarchiv. Theodore's Artisans and their Wives. WRM/PH/SL888/52. Schimper, sitting in the middle, behind him, standing, with beard, Eduard Zander.
2, Specimen sent by Schimper. 'Schimperi iter Abyssinicum. Pterygocarpus abyssinicus Hochst.', dated 19th July 1838. Kew 41177. Kew Herbarium, London; Catalogue published on internet site:
http://apps.kew.org/herbcat/getHomePageResults.
3, Specimen sent by Schimper. 'Oxystelma pterygocarpum Hochst.', dated 19th August 1854, Kew 40298. Kew Herbarium, London; Catalogue published on internet site: http://apps.kew.org/herbcat/getHomePageResults.
4, Ubyaea schimperi' = now called Haplocarpha Schimperi (Sch. Bip.) Beauv. Schimper 1176, Asteraceae (Compositae) or Ethiopian daisy, dated 30 May 1838. Kew Herbarium, London; Catalogue published on internet site: http://apps.kew.org/herbcat/getHomePageResults.
5, Ubyaea schimperi, photographed on November 14th, 2009, outside Däräsge Maryam Church, near Mekane Berhan, Semen Mountains. © Dorothea McEwan.
6, G. W. Schimper, Maps, 17, detail of 'Area of Axum and Adwa and surroundings'. © The British Library Board. Add. Ms. 28506.
7, ditto, 17, Table 7, with entry for 'Gässa Schimper' and 'Amba Sea', Schimper's country estate south of Amba Subhat. © The British Library Board. Add. Ms. 28506.
8, G. W. Schimper, fold-out map, 'Umgegend von Axum und Adoa in Tigre', accompanying the article 'Geognostische Skizze der Umgegend von Axum und Adoa in Tigre', as recorded by W. Schimper, edited by A. Sadebeck, with a postscript by Richard Kiepert, 1869.  Zeitschrift der Gesellschaft für Erdkunde zu Berlin, 347-352. Plate VI, profile V.
9, Exterior of Däräsge Maryam church. © Dorothea McEwan.
10, The 'castle' or 'House of Refuge' in 'Byzantine style', between the two concentric stone walls around the church compound of Däräsge Maryam, built by Schimper and Zander for Webe. © Dorothea McEwan.
11, Painted borders, in the church of Däräsge Maryam, possibly by Schimper and E. Zander. © Dorothea McEwan
12,The Däräsge Maryam Revelation. Robin and Dorothea McEwan (eds.), Picturing Apocalypse at Gondär, Torino, 2006, 75. Däräsge Maryam Revelation, 40v and 41r, Rev. 7:11-12. 'And all the angels standing around the throne…' © Dorothea McEwan.
13, G. W. Schimper, Observations, 86r. Drawings and explanations of plants used in making a parasol and a protective cloak of bulrushes. © The British Library Board. Add. Ms. 28505.
14, G. W. Schimper, Maps, 1r. Place names on the map of Bägemder. © The British Library Board. Add. Ms. 28506.
15, Rock samples, Natural History Museum, London, in Schimper's handwriting. © Tony Betts, London.
16, Rock sample, Berlin, Museum für Naturkunde, Mineraliensammlung. 'Between Amba Berra and Biet Bendelion, South East of Aksum, c. 14 1/3 degrees Northern Latitude, Tigre, Abyssinia. Collection Schimper, plate 12, no 44'. Quartz. © Location and photo: Museum für Naturkunde, Mineraliensammlung, Berlin, Germany.
17, G. W. Schimper, Maps, 17. Table 12.
Profile between 'Amba Berra' and 'Biet Bendelion' (=Betä Päntälewon), South East of Aksum. © The British Library Board. Add. Ms. 28506.